Note
We would like to inform you that Group Play will not be serviced in the up-coming Samsung smart devices, including Galaxy Note4. Thus Group Play SDK is not available as of 31th of December, 2014. Please take note that Group Play apps/games operate only on Group Play supported devices and may not be activated once the user upgrades the device with the next version of Android OS.
Thank you for your understanding and please contact our Customer Support Team (http://help.content.samsung.com) if you have any inquiries about Group Play.
Group Play SDK allows applications to easily configure network settings with simple processes and to use the group organizing features that Group Play offers. This makes it easy for applications to complete Wi-Fi connections, and locate and connect with other devices. Applications can also be registered within Group Play and then launched with Group Play SDK.
What Is Group Play?
Group Play connects a device with other devices regardless of the network environment, and creates groups that can share media content and play games together. When group members are in locations where it is difficult to find an available Wi-Fi network, they can create their own network
What Is Group Play SDK?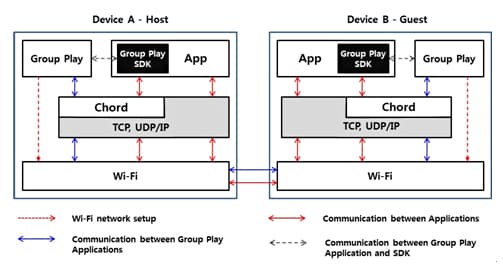 When applications are developed with Group Play SDK, users can join groups via Group Play and also check a group's status, such as all the participants and they can be identified as the host, and the guests.
Participant information can also be managed, keeping track of users that are joining groups and sending status updates to Group Play each time a user enters or exits a group. The API is also provided to make the process easier.
Group Play SDK provides the following features :
Launches Group Play applications.

Checks if Group Play sessions are available.

Checks Group Play status to confirm if a Host or Client exists.

Checks user status by monitoring if they have entered or exited applications. Group Play SDK then sends the information about application use to Group Play.

Wi-Fi network connectivity is required to use applications that are developed with Chord SDK. In everyday life however, certain conditions and environments do not always provide reliable Wi-Fi networks for users or it can be difficult for users to connect to the same Wi-Fi network.
To counter this, Group Play generates its own mobile API to allow users to connect with it by providing a Wi-Fi environment to connect to. Applications developed with Chord SDK can use Group Play Wi-Fi networks too, letting users experience easier connections with their friends. Group Play also displays the status of participants in the application, so that users can easily check each other's status.
Group Play SDK is supported in Android 4.2.2 (Jelly Bean Plus MR1), and API Level 17 or higher.