1. Install the GWD
Download the latest version of the Gear Watch Designer, then execute the installation file.
* The Gear Watch Designer requires JRE v1.8 or later. You can get the most up-to-date version of JRE from: http://java.com/en/download/
The Gear Watch Designer is a simple one-stop shop for visual designers who are looking to produce and distribute their own watch face designs.
* Make sure that there are no special characters in the installation path (e.g. #, !, @)

2. Start a project
Start designing your watch face immediately from a range of templates.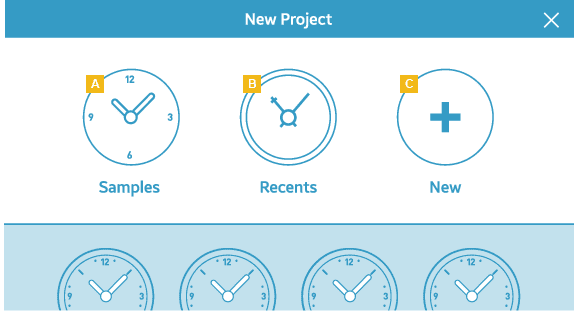 A. Sample
Access a wide range of templates and predesigned watch faces that you can use as a starting point for your own creations.
B. My Project
Open the current or completed projects you have worked on.
C. New Project
Start with a blank canvas and let your imagination run wild.
3. Get a certificate
To become a Gear watch face designer, you'll need two certificates.
Both certifications can be completed through the Gear Watch Designer.
* You will need a Samsung account ID to get an author and distributor certificate.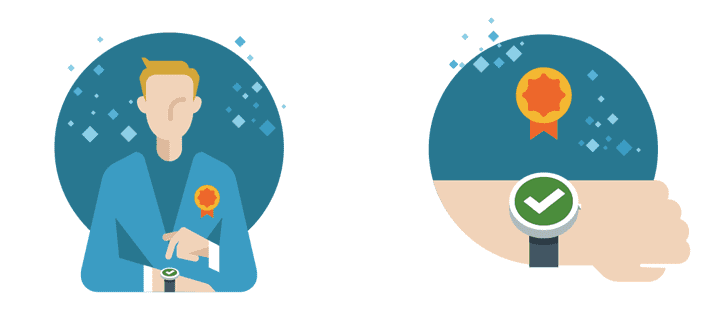 A. Author certificate
Used to upload your watch face to the store.
Note
Keep your author certification file handy, as watch faces uploaded to the store cannot be edited without it.
B. Distributor certificate
Used for testing your watch face on a Gear device.
3. Get a certificate – Author certificate
Generate your author certificate when you first launch the Gear Watch Designer or from the Projects in the menu bar. Follow these simple steps below :

Step 1. Generate a certificate
For first time users, select Generate a new certificate. If you already have one, select I already have a Tizen Author certificate. Then upload your certificate file and enter your password.
Step 2. Provide your info
Enter your personal details.

Step 3. Log in
You'll need a Samsung account ID to log in.
Create one if you haven't already.
Step 4. Certification
Receive your author certificate.
3. Get a certificate – Distributor certificate
Connecting an uncertified device for testing will cause a Distributor certificate dialog window to appear. Generate your distributor certificate by following these steps:
Step 1. Connect your Gear to Gear Watch Designer
Connect Gear to your computer (Wi-Fi only).
Visit Connect to GWD for more information about how to connect your Gear to Gear Watch Designer.
Step 2. Log in
Once connected, the device ID will be shown on the screen.
Enter your Samsung account ID and password, then click log in.
Step 3. Certification
Receive your distributor certificate.