1. Build
You'll need to go through the Build process to produce a .tpk file. This is the type of file that you will upload to the store.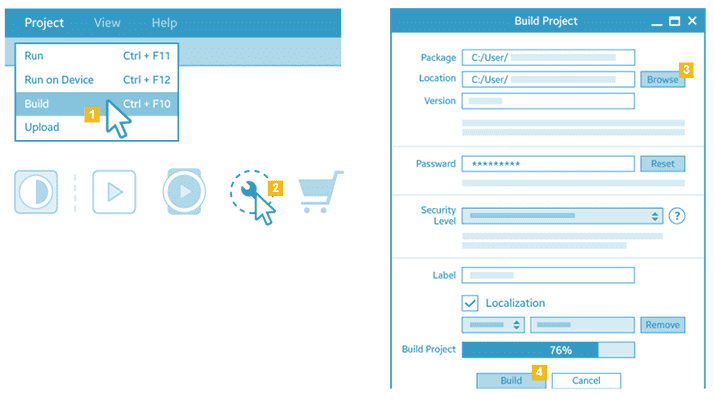 Step 1. Build
Select Build from the menu bar.
Click 1Click Project > Build
or Click 2Click the Build button
Step 2. Build a .tpk
Save the .tpk file in a folder. Once the build is finished, upload your watch face to the store.
Click 3Click Browse to select the destination folder
Click 4Click on the Build button
2. Store upload
When you're uploading your watch face, you'll be taken to the seller's website.
If you are not logged in, you will be redirected to the login page first.
When you initially register on the website, you'll be a Free Seller, which only lets you upload apps that are listed as free downloads. Once you switch to Commercial Seller, you can upload paid downloads. Refer to this guidance to find out how to become a Commercial Seller.

Step 1. Upload to the Store
Click 1Click Menu bar > Project > Upload
or Click 2Click the Upload button
3. In-app purchases
Enabling In-app purchase by setting like below.

Step 1. Add your watch face as an In-app purchase when you're uploading your item
* You need to be registered as a Commercial Seller to do this.
* In-app purchase should be applied to watch face
Step 2. Enter the details about your watch face
1. Enter the details in English.
2. Add an Item ID using English letters, numbers, and certain special characters (. - _).
3. Set the Item type to Non-consumable.
4. Enter your selling price.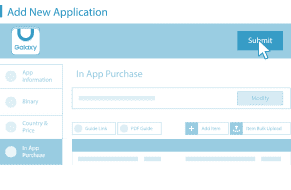 Step 3. Once you're done, click Submit to upload your watch face.