This document includes design guidelines for the Samsung Health SDK's tracker and tracker tile.
Tracker
The tracker is a basic building block of Samsung Health. The user's health data can be monitored, measured or updated through the tracker such as counting steps, measuring heart rates, tracking exercises, collecting health data on background, or allowing user to enter data manually.
Samsung Health has useful health trackers and user can see interesting health data through the tracker tile on the main screen by turning on the each tracker's switch for subscription on the Samsung Health > Manage items menu.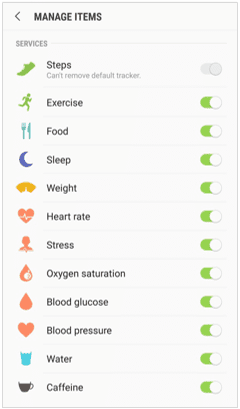 Samsung Health's Trackers