Application Publication Process
This topic is an introduction to publishing Web applications for Samsung TVs.  It lists the required files, and outlines how to register and update the application.
After completing your application development, you can publish your application on Samsung Apps TV.
Publishing New Applications
To publish a new application:
Prepare the following files before submitting your application.

Table 1. Files required for application registration in the TV Seller Office
Element
Dimensions
Format
Maximum Size
Application package
-
WGT
-
Application image
1280x720 px or 1920x1080 px
JPG
500 KB
Application icons
2015 TV models
512x423 px
JPG, PNG
300 KB
2016 and later TV models
Foreground
1920x1080 px
PNG
Background
JPG, PNG
Application UI description
-
PPTX
-

If you plan to release your application in multiple countries, you must prepare an application name and description in each country's language.

Go to the Samsung Apps TV Seller Office and log in to your account.
The application publishing process is managed through the TV Seller Office.

Select "Applications > Registration", and select the type of application to register.

Enter the required information:

Complete the pre-test.
The pre-test checks the application package to make sure that all required information is present, and also checks for common security issues and defects. Your application must pass the pre-test before you can proceed with registration.

Register the application.
After passing the pre-test and completing the application registration, the Samsung Apps TV Seller Office tests your application:

If there are no defects, your application is published on Samsung Apps TV.
If your application has defects, you must correct them and submit a new version of your application. For more information, see Application Certification.
Publishing Updated Applications
To update your application version:
Create an application package with the updated code.
At the Samsung Apps TV Seller Office, go to "Applications > Management" and select the application you want to update.
In the "App Information" tab, click "Version Up".
The process is similar to publishing a new application. For more information, see Application Version-up.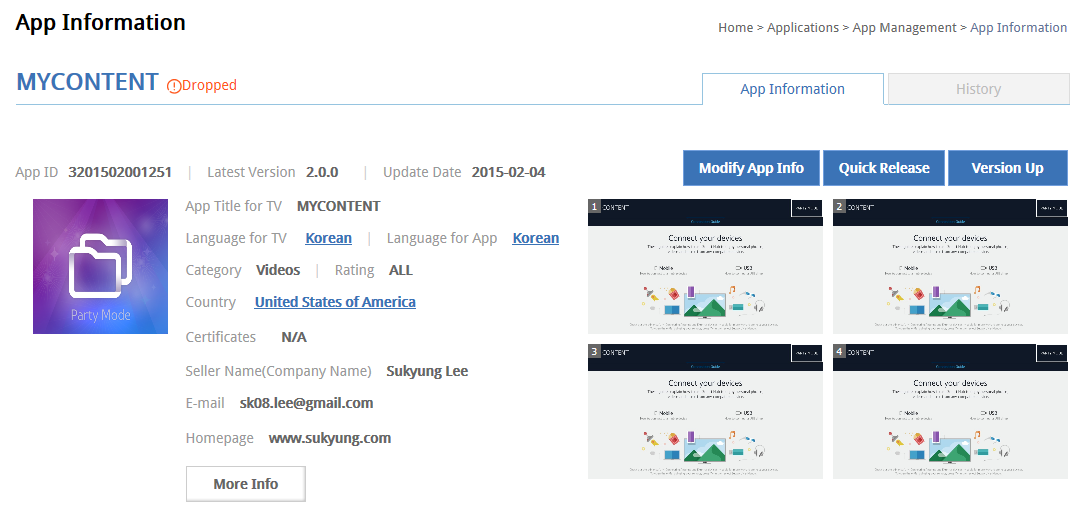 If you have questions about the release process, defects, or system features, you can contact the TV Seller Office by selecting "Support > 1:1 Q&A".