A lot of health devices are Bluetooth devices. Bluetooth is very familiar to device venders and users because it has a mature market and provides easy connectivity.
Samsung Health Device SDK defines Bluetooth Low Energy (BLE) compatible guidelines and Samsung Health specifications based on Bluetooth Generic attributes (GATT) including service structure to connect with Samsung Health.
BLE compatible guidelines include the data communication flows with BLE standard specs that Samsung Health requires. By means of using this comprehensive wireless health device, the users can easily perform blood glucose, blood pressure, heart rate and weight scale monitoring with Samsung Health.
Moreover, Samsung Health specifications defines new services, characteristics requirements and data communication flows for BLE health devices like pedometer, exercise monitor, sleep monitor and heart rate monitor with historical data which are not covered by standard BLE specs. It has similar style to BLE standard specs. BLE device venders that are used to BLE specs can follow them quickly.
Samsung Health provides easy interface to connect BLE health devices and manages health data from health devices. Being Samsung Health's partner as implementing Samsung Health Device SDK's data specs enables your BLE health device to be exposed in Samsung Health > Accessories and to utilize Samsung Health's ecosystem.
Users will be happy and feel satisfied to mark and record their health history, find the risk point, and expect the best service that we are giving through Samsung Health.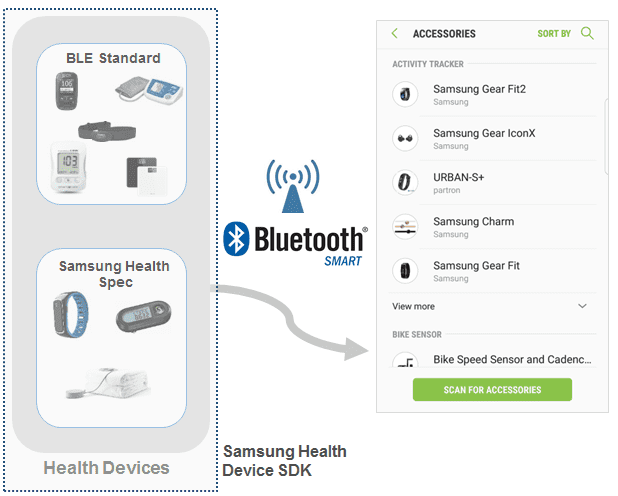 Figure 1: Samsung Health's Device SDK