Overview
What is Samsung In-App Purchase?
Samsung In-App Purchase, also known as Samsung IAP, is a payment service that makes it possible to sell a variety of items in applications for Samsung Galaxy Store. In-App Purchase can be used either to make a one-off payment or to pay for a regular subscription. Items that can be sold via In-App Purchase include premium content, virtual goods such as in-game items, and specific services with different length license terms.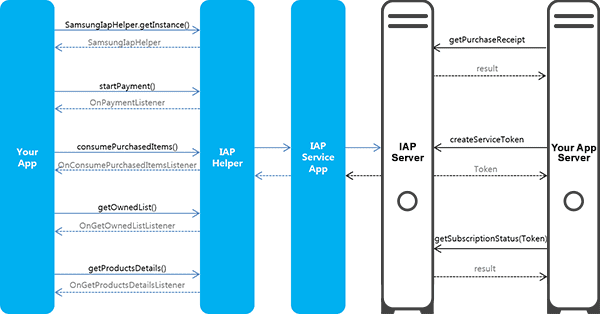 From Version 5 onwards, Samsung In-App Purchase SDK offers new functions by providing new Product Types, a Consume API, Pass-through parameters and enhanced subscription features. With the new features, it is possible to provide various subscription models to users with enhanced security.
From Version 4 onwards, the additional payment module does not have to be installed on users' device when running Samsung In-App Purchase for the first time. With the improved payment interface, it is much less likely that users will deviate from the payment process, which contributes to more stable revenue growth for application developers.
Payment methods including credit card, phone bill, and PayPal are available for Samsung In-App Purchase in over 90 countries around the world. Other payment options will be added over time.
To apply Samsung In-App Purchase to your applications successfully, make sure you read the following documents thoroughly.
4 Basic Steps to Sell In-app Items

Download Samsung In-App Purchase SDK and integrate it into your application.

Join as a

Samsung Galaxy Store Seller Office

. In order to charge for your application or in-app item, you first need to request commercial seller status and register your payment information.

Upload your binary file to Samsung Galaxy Store Seller Office. You can add in-app items only after you register a binary to which Samsung In-App Purchase is applied.

Add in-app items and register item-related information: Item ID, Item Title, Item Type, Price, etc.
Expanded Availability for Samsung Gear
Samsung In-App Purchase not only supports Android devices but also the Tizen-based Samsung Gear. To sell items in applications exclusive to the Samsung Gear, a sound understanding of the Tizen SDK is required. The In-App Purchase feature can be implemented by using the Extension SDK.
Check out the opportunities for generating revenue through the Samsung Gear by clicking the following link.
Restrictions
The SDK runs on Samsung devices with Android 4.0 Ice Cream Sandwich or above.