Samsung Health provides SDKs to help application developers and healthcare providers thrive in an open environment that connects devices and partner services. Samsung Health's partners get benefits that they can supply various health service experiences to their users through the SDKs.
Samsung Health is an engaging app for fitness and wellbeing that runs on Android devices not only on Samsung devices. It keeps track of the users' health data and builds up the user's health habits. Samsung Health and its partners can share the user's data with Samsung Health SDKs.
If you want to find out more about Samsung Health app, please visit Samsung Health Website. For general enquiries and suggestions for Samsung Health, please use Samsung Health > Contact us. Note that dev.shealth@samsung.com is a contact for Samsung Health's partners to use Samsung Health SDKs.
Samsung Health Android SDK
Samsung Health Android SDK is proper to Android health app providers. It runs with installed Samsung Health on the Android smart phone. Samsung Health tracks the user's health data and Android SDK's partner apps read Samsung Health's data or write new data to Samsung Health through the SDK. Especially, posting your app's tracker tile to Samsung Health and jumping to the wanted tracker of Samsung Health bring expanded services to your app.
Samsung Health Server SDK
The best advantage of Samsung Health Server SDK is syncing health data with no dependency on platform environment. It covers Android, iOS and Web services with REST APIs. Data in the phone's Samsung Health is synced to Samsung Health Server though the user's Samsung Account. A partner service that uses this SDK can access Samsung Health Server's health data without Samsung Health installation on the smart phone.
Samsung Health Device SDK
Generic Attributes (GATT) profile is general specification to connect BLE devices. Samsung Health Device SDK provides BLE compatible guidelines and Samsung Health's enhanced specifications for Samsung Health's partner devices. The SDK provides a test environment for your BLE health device. And Samsung Health's Accessories menu is a good entry point to find partner health devices to the users.
Samsung Health Programs
Samsung Health provides fitness programs created by industry professionals and provides a platform to share contents with millions of users around the world. We welcome all fitness professionals and content providers to join and publish their training methods and fitness contents on Samsung Health. For more information, please contact us .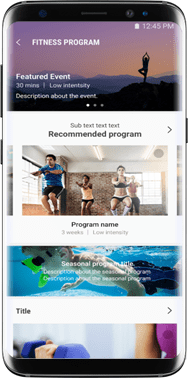 Developer Feedback
Please send any feedback regarding Samsung Health SDK to dev.shealth@samsung.com and email any business-related inquiries to biz.shealth@samsung.com.