Request Process
If you don't have Samsung Account, you can create new account

here

.

If your request for Partnership Request is approved, you will receive an approval e-mail.

Develop your application and server together with the API specification and reference document

Submit your application for verification

Your service is ready to launch as you receive an approval e-mail.
The Smart Home Cloud API provides methods to control and monitor Samsung Smart Home devices. Through this Smart Home Control Service, a partner's application can connect with various devices and provide enhanced services to their customer.
Smart Home Control Service operates through Cloud-to-Cloud integration between the Partner Cloud and Smart Home Cloud.
Smart Home Cloud API Specification
Samsung provides several REST API for Partners so they are able to integrate their system to the Samsung Smart Home Cloud. The body of the REST API will use a standard JSON document. So partner developers will need to understand the JSON document, called by Smart Home Data Model.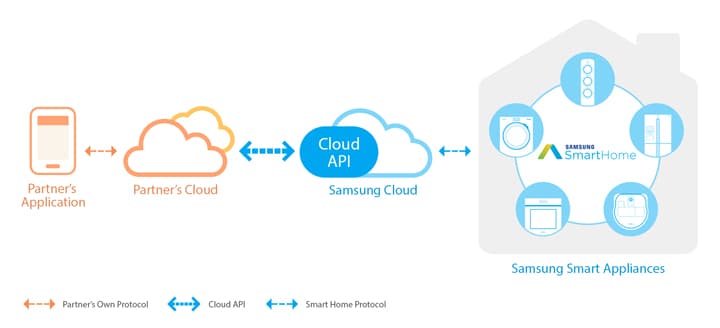 Smart Home Data Model
The Smart Home Data Model is a data structure formatted as JSON to represent Samsung Smart Home devices like refrigerators, washers, air conditioners, air purifiers, robot vacuum cleaners, dryers, and ovens.
Steps to integrate the Partner Cloud and Smart Home Cloud
Steps to integrate the Partner Cloud and Smart Home Cloud

01

Authentication
In order to connect with Samsung devices, your system needs to follow the Samsung Account authorization process. It means that you are able to communicate with the Samsung Home Cloud if it has a valid token obtained through OAuth process.

02

Discovery
A partner can obtain a list of all of Smart Home devices registered to a specific user. It contains detailed information such as type, name, model, version and resources.

03

Sensing
A partner can query information about the status of a specific device. The Sensing API provides the latest resource status of a specific device.

04

Subscription
A partner can register for notification of changes in Smart Home device and then receive the data in real time.

05

Notification
If Samsung Home Cloud detects change in device status, it sends the notification and status data to partners.

06

Control
A partner can control a specific device using the Control API of the Smart Home Cloud.

07

Unsubscription
A partner can unsubscribe from receiving notifications about a device's change in status. Then, the partner will not receive any notification data from the device.
* For more detailed information, please register as a partner.