Overview
Edge(Look) offers specialized widgets and service components for extended functions of the Samsung Android devices.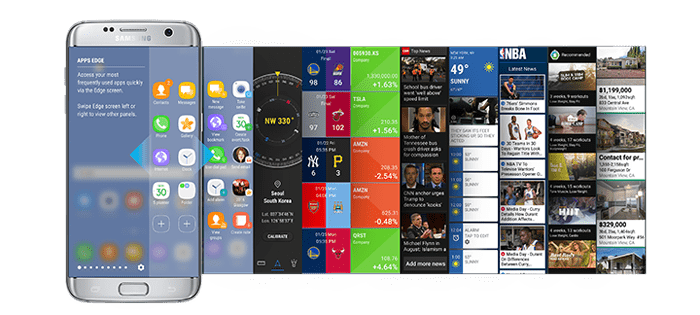 Edge(Look) supports the following functions:
Edge

Edge Single Mode
Edge Single Plus Mode
Edge Feeds Mode
Edge Immersive Mode (will be deprecated in N)

S-Pen

SmartClip (will be deprecated in N)
PointerIcon (will be deprecated in N)
Edge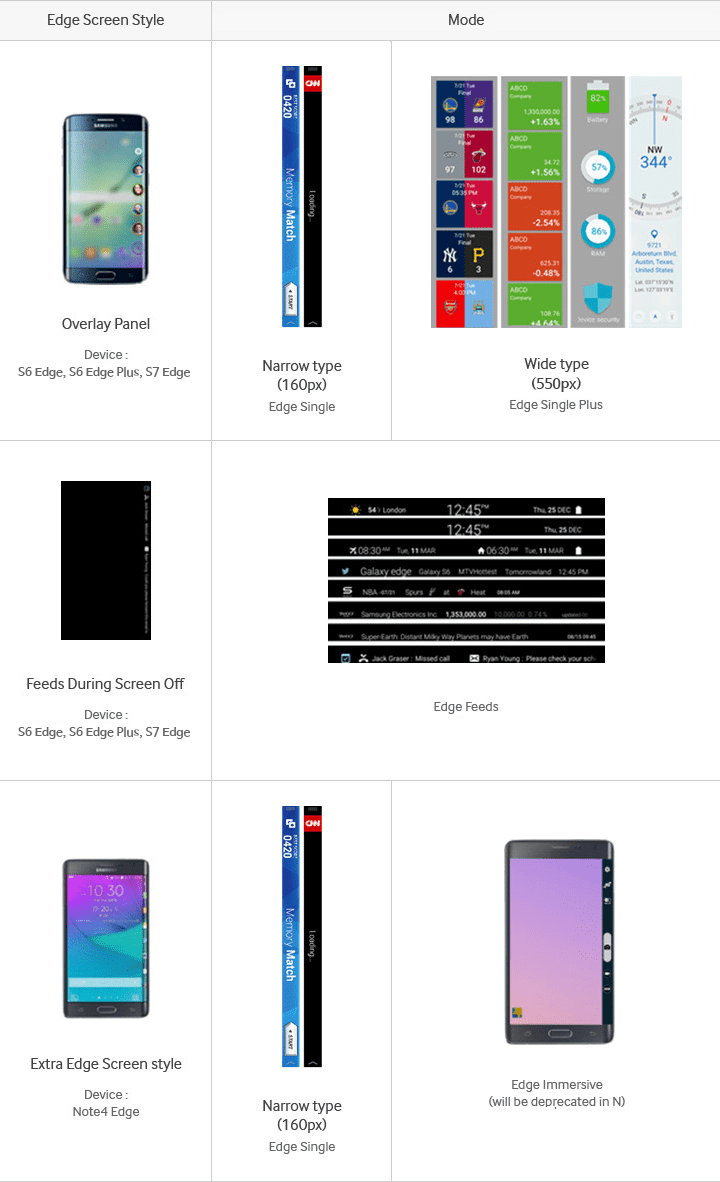 Figure 1: Edge Mode
From Galaxy S6 Edge M OS, Edge Feed mode and Edge Single Plus mode are supported and this feature has been added to Edge(Look) SDK 1.3.0. For more information, please refer to this document:
'[Samsung_Galaxy edge] UI_Design Guideline_v1.2'
Edge Single Mode
The Application for Edge Single Mode is viewed on the Edge(curved) screen area. You can publish one with the cocktail provider, which is added in the Edge screen area. You can enable some Edge Single Modes in Edge Settings, and change them through the revolving action on Edge service.
Edge Single Plus Mode
Edge Single Plus mode is similar with Edge Single Mode, but can provide many contents using the wide UI. Edge(Look) v1.3.0 supports the options where you can define the variable width and API which can describe the Edge Single Plus mode.
Edge Single Plus mode is supported in Galaxy S6 Edge M OS, and Galaxy S6 Edge+ M OS and Galaxy S7 Edge M OS.
Note
Multiple Single Plus Panel can be supported for one packages but Single Mode(160 px) will be hidden automatically if App support Single Plus Panel.
Edge Feeds Mode
Edge Feeds Mode is similar with Edge Single Mode but with simpler information.
Edge Immersive Mode
You can use the extra edge screen as a sub-window for the main activity to offer wider views.
A screen with a 16:10 expanded view is provided by arranging components of each screen as Edge screen area. This is provided while a specific Application is running, or in a specific screen of the Application and once you get out of the screen or application, this automatically disappears.
Note
Edge Single mode, Edge Single Plus mode, or Edge Feeds mode developed using the SDK may appear on the Lock and Cover of the device. Personal information may be displayed on the application. For privacy reasons, caution is advised.
Note
When you submit an Edge application into Seller Office, please make sure of the following guidelines.
1) Only the same mode of Edge binaries can be registered under one content ID.

2) For the multiple registrations, General binaries and Edge binaries cannot be registered at the same time.

3) Edge function cannot be added to the registered general application.
S-Pen
Note
S-Pen SDK will be deprecated from N OS because of concept changes and lack of usage. Please be mindful in using it.
SmartClip
SmartClip allows you to capture and extract metadata such as texts and URLs and to crop screenshots using S-Pen. When you point your S-Pen near the target view, press the side button, and select Smart Select. As seen in Figure 3, you can draw on the screen to collect Metadata from the Android View. In addition to simple screen captures, you can also collect information from the contents displayed on the screen and any additional information provided by the application. The information can be converted into text. You can search the clipped contents or send the clipped texts to other applications. You can use the Pinboard application to view or manage clipped contents.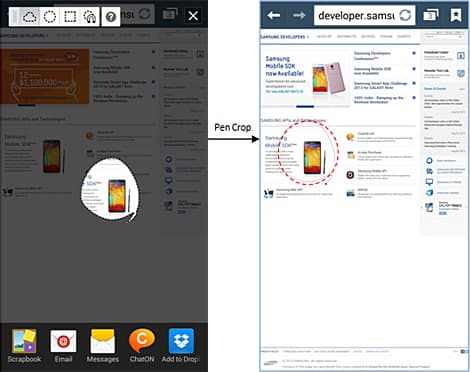 Figure 3: SmartClip S-Pen crop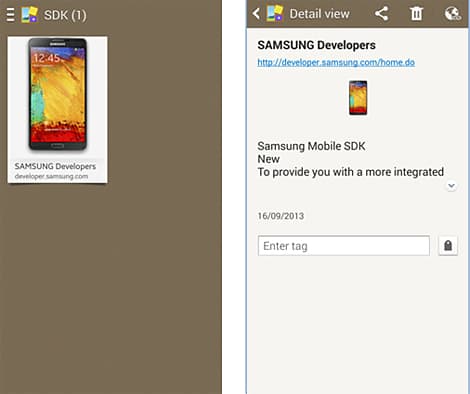 Figure 4: Metadata management
Images and texts clipped by S-Pen are extracted from the screen. Internal information is not extracted if the application uses CustomView for screen configuration. The Edge(Look) API allows you to provide additional information.
For example, the URL or Deep Link provided for clipping from the application screen allows easier access to the URL or application.
You can directly add metatags to view or register a callback in order to add metadata when the screen is clipped
PointerIcon
PointerIcon changes when you place S-Pen on View. For example, you can configure the selected color icon from the drawing application to indicate the current status as displayed in Figure 5.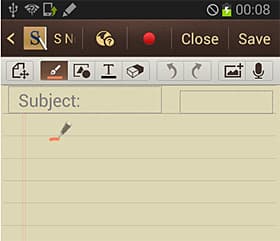 Figure 5: PointerIcon
Restrictions
Edge(Look) has the following restrictions:
All Edge(Look) API functions require S-Pen excluding Edge.

These functions are only available on devices that support Edge(Look).