Applying to become Developers:
What is Samsung Themes?
With Samsung Themes, you can personalize Galaxy devices' screens.
We provide Samsung Mobile Theme Editor to lower the barriers to developing themes and encourage global designers to participate in theme development.
Without any coding, you can design a theme by using a combination of your own artwork.
A detailed range of support includes:
Wallpapers

Icons

Themes

Home screen and lock screen wallpapers, and application icons

The backgrounds and elements of default applications (Phone, Contacts, Messages, Email, Calculator, Alarm/Clock, etc.)

Sounds (Ringtones, Alarm sounds, Touch sounds, Dialpad tones, Keyboard sounds, Device button press sounds, and Delete button press sounds) and some fonts (Number fonts and Clock fonts)

Galaxy S8 Standard UX

Examples of the Pink Theme
Samsung Mobile Theme Editor
As an exclusive tool for theme development, Theme Editor helps designers with little or no software development experience to easily make themes.
Main Features of Theme Editor
Provides intuitive usability

You can easily change images using the Drag & Drop function.

You can immediately check changes after editing via Preview.

You can easily check the changes of the device's main applications via the Preview Key Screens menu.

You can directly check results from the device via the Apply to Device menu.

Supports a wider range of changes than the existing launchers

Allows designers to conveniently create images

Theme Editor provides information about the sizes of images to be replaced so that designers can make themes using images optimized for the device.

You can refer to the original images when creating images by downloading them.

Allows you to easily register new themes in the Theme Store
Theme Editor Layout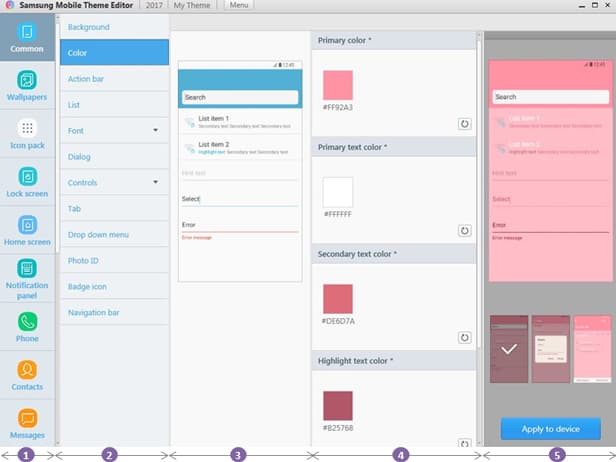 Theme Editor
Applications that theme designs can be applied to are displayed.

From applications, items that theme designs can be applied to are displayed.

Items that theme designs can be applied to are displayed in detail in the dotted line area.

The edit screen allows you to change the theme images or colors of items.

The Preview screen allows you to view the results after you have edited the theme.
Request Process
Sign up

for a Samsung account, if you do not already have one.

Complete required information and submit the Request page.

Portfolio review

Develop a theme using Theme Editor and register it in the Theme Store.
FAQ
Question
Answer
Is anyone who wants to develop themes allowed to create one?
Only those who have been selected through an internal review are allowed to develop and register themes.
How do I apply to become a Theme Developer?
Theme Developer applications open on the third Wednesday of every odd month and remain open for two weeks. You can submit your application in this page.
What can I submit as my portfolio?
You can attach a mock-up file containing a home screen, lock screen, and icon in .jpg, .pdf, or .zip format, or provide a URL. You may also submit any portfolios and designs that you have previously made for mobile devices such as skins, themes, illustrations, photos, and icons. [Reference template]
Make sure that you attach files saved in image format (e.g., .png, .jpg), .pdf format, or .zip format. If you add a cloud URL, such as Dropbox or Google Drive, we may be unable to review your portfolio.
What does the review process involve and how long does it take?
We review portfolios based on the following criteria: creativity, originality, and theme development ability. The result will be sent to the email address you used to submit your application. It may take up to a month for us to notify you of the review result.
Is it possible to be excluded from a review?
Your application may be excluded from a review in the following cases: if you wish to develop a theme for personal use; if you do not submit a portfolio; if you submit an image not created by you; or if you submit the same portfolio multiple times.
Seller Magazine
Samsung Themes publishes a monthly Samsung Themes Seller magazine to help our theme designers succeed in creating and selling their themes.
Check out our Samsung Themes Seller magazine, packed full of theme development and sales tips, popular themes in different countries, and interviews with outstanding theme designers!
(Click the URL below to see more.)
https://www.samsungthemesmagazine.com
Restrictions
It is available on models from the Galaxy S6 onward that have a display of at least HD resolution. As of January 2019, the service is available in 185 countries, including 106 countries that provide it as a paid service, and it will gradually be extended.

Themes that are developed using Samsung Mobile Theme Editor can only be sold on Samsung Themes.