Health data access is an essential feature to provide health services. Samsung Health released the Samsung Health Android SDK already. It helps that partner apps connect with Samsung Health installed in Android smartphone and access the user's health data saved in the local device. See Samsung Health Android SDK for more information.
To expand service environments more, Samsung Health defines Samsung Health Server SDK that provides REST APIs. It enables service providers to access health data in Samsung Health Server. Service providers can create advanced health services though Samsung Health Server SDK without a limitation of an Android environment.
The user's health data are saved in Samsung Health Server after using a sync option in Samsung Health > Settings > Samsung account as the following figure.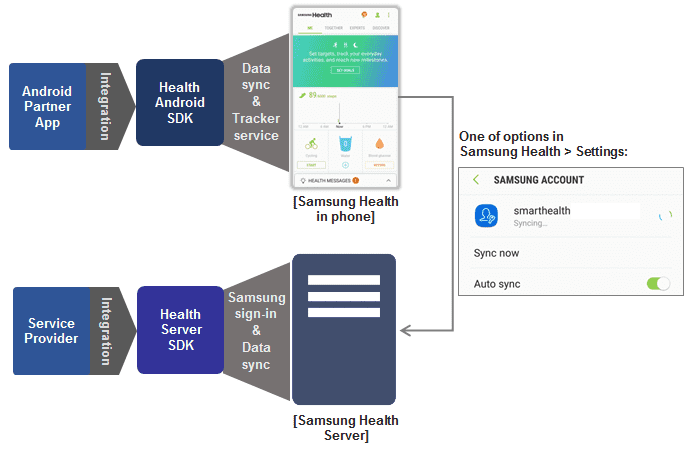 Figure: Samsung Health's Android and Server SDK
Health Server SDK's benefits are:
No specific platform dependency

OAuth2 authorization API (Samsung Account)

No dependency on Samsung Health app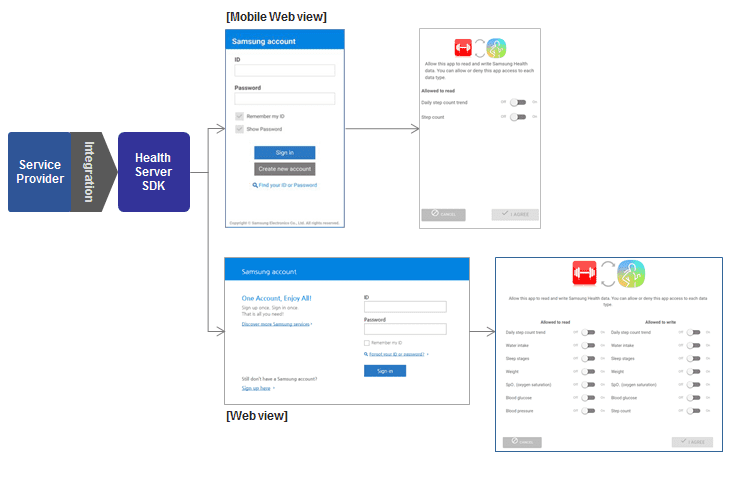 Figure: User flow
The user's flow is drawn in a figure above.
1)

The health service is started. Data access is required.

2)

Samsung account sign-in is popped up. The user enters his/her ID and pw.

3)

Sign-in successes. A pup-up is shown for data permission. The user agrees all data.

4)

You can access the server's health data.