Samsung Health Device SDK
Samsung Health provides a feature that allows users to discover compatible health devices. To enable data sync from your health device to Samsung Health, please Apply for the Partner Device Program. An approved health device is displayed in Samsung Health > Discovery > Accessories.
Many health devices are Bluetooth enabled and this is the primary method of interfacing with Samsung Health.
The Samsung Health Device SDK defines Bluetooth Low Energy (BLE) compatible guidelines and Samsung Health specifications based on Bluetooth Generic Attributes (GATT), including service structure, to connect with Samsung Health.
BLE compatible guidelines include the data communication flows defined in BLE standard specs that Samsung Health requires. Through a wide variety of compatible health devices, users can sync data related to blood glucose levels, blood pressure, heart rate, and weight with Samsung Health.
Additionally, Samsung Health provides data flows and specifications for forthcoming supported services including pedometers and exercise and sleep monitors, which are not covered in standard BLE specs. These standards are set forth in a familiar structure to standard BLE standard specs, allowing device venders to easily adapt to the specifications.
Samsung Health provides an easy interface to connect BLE health devices as well as manage health data from these health devices. As a Samsung Health partner, implementing Samsung Health Device SDK data specs, enables your BLE health device to be displayed in Samsung Health > Accessories and to utilize Samsung Health's ecosystem.
Users will be able to measure and record their health history and enhance their experience by taking advantage of the many services provided through Samsung Health.
Upon approval, partners can use the "Compatible with Samsung Health" seal on their devices or packaging.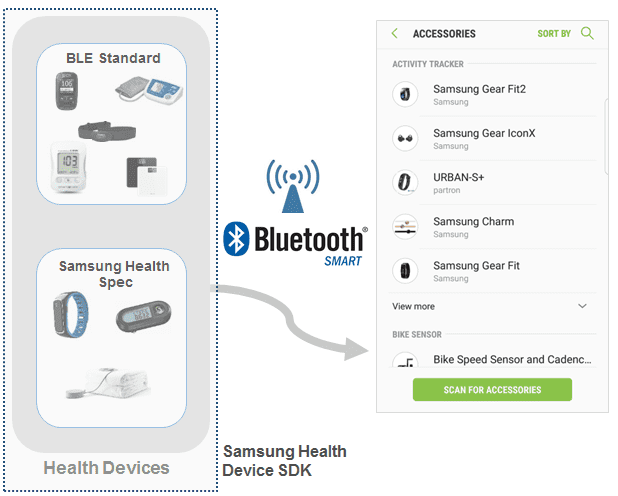 Partner Devices Program
Samsung Health supports various health and fitness accessories and equipment with support for connectivity protocols including ANT and BLE. You can find connected devices in Samsung Health > Discovery > Accessories. To connect your devices with Samsung Health, please apply for the Partner Device Program.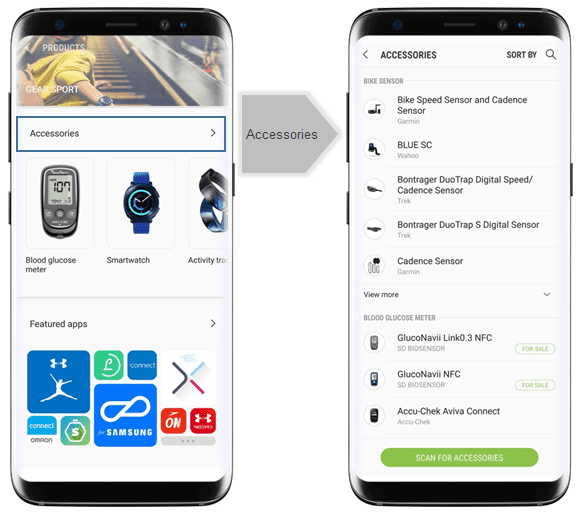 1. SDK Download
Download SDK's specs and tools.
2. Health Device Development
Implement your device based on Samsung Health Device SDK's specs.
3. Self–test With tools
Test your device with the test apps and
verification tool before applying for Partner Device Program.
4. Apply for Partner
Submit the application form.
Please contact dev.shealth@samsung.com first if you need NDA.
5. Send Your Device
Send your device to Samsung Health for its review. Please understand that the delivered device would not return.
6. Partner Device Approval
It takes approximately 1 month to verify your device after receiving your device.
7. Get Featured on Samsung Health
The approved device will be displayed in the upcoming Samsung Health's Accessories page.