Requirements
Microsoft Windows® 7 or later (64-bit), Apple Mac OS® X 10.8 (Mountain Lion) or later

At least dual-core 2 GHz of CPU

At least 2 GB of RAM

At least 1 GB of free disk space

Java SE (see Compatibility for more information):

If you are using Windows and Java SE 8, download the Java Runtime Environment (JRE). 64-bit JRE is required.
If you are using Windows and Java SE 11, download the Java Development Kit (JDK).
If you are using a Mac and either Java SE 8 or 11, download the Java Development Kit (JDK).

1280x1024 resolution display (higher resolution recommended)
Design, produce, and distribute your own watch face without the complexity of code scripting.
Now in beta,
Anyone who's interested in making watch face can join this beta program. Help us perfect the Galaxy Watch Designer by giving us feedback about its stability and performance.
A tool for both amateurs and experts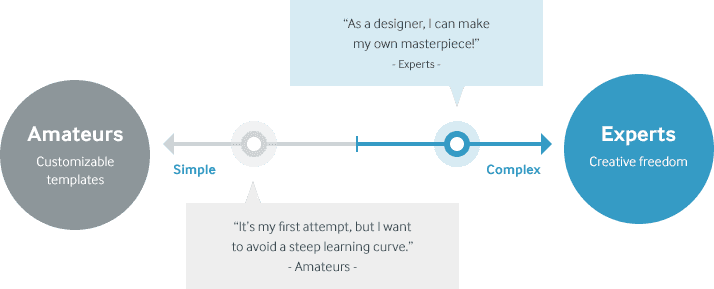 Just one simple process
Create your design elements, assemble them, then upload your watch faces directly to the store.

No Experience Needed
The interface has been designed to be immediately familiar to anyone who's used to working with applications like Adobe Photoshop and Illustrator.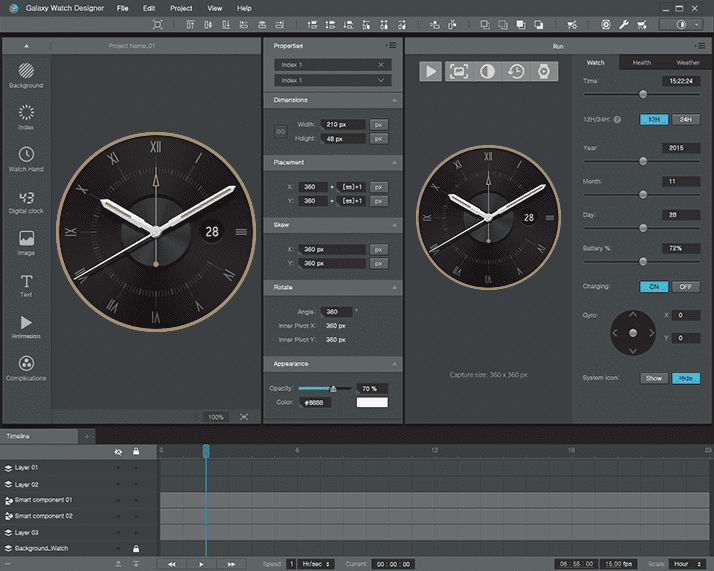 Unleash your creativity
Packed with powerful features to bring your ideas to life
Conditional line based component control

Adjust the conditional line of each component for maximum flexibility and customization.For example, you can show the SUNNY background image during the day (06:00 ~ 17:59), then show the MOON background image at night (18:00 ~ 05:59). You can also apply conditions based on battery level and number of steps taken.

Get animated

Make your designs move with a range of powerful animation features.