Overview
Connect a Gear device(Gear S2, Gear S3, and Gear Fit2 only) to a Host PC via Wi-Fi. A wireless access point is needed to connect a Gear Device to a Host PC.
Instructions
Host PC Set Up
Connect the Host PC to the Wireless Access Point via UTP cable or Wi-Fi.
Gear Device Set Up
Turn on the Wi-Fi.

Turn on debugging mode.

Select Settings > Gear Info > Debugging

Reboot the device.
Connect a Gear device to the Wireless Access Point via Wi-Fi
From the Wi-Fi menu of the Gear device, find the Wireless Access Point and connect to it.
Once connected, find the IP address that the Gear device had received from the Access Point via DHCP. This IP address will be used during the SDB connection.
You can get this IP address by checking the information of the access point of the currently connected Gear device.
Now you are ready to connect the SDB in the IDE or command line.
Connecting via the IDE
Open the IDE and launch the Remote Device Manager.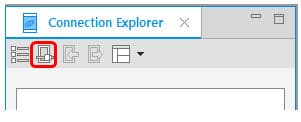 Once the Remote Device Manager is open, it will start to scan for devices. Alternatively, click the scan button to scan again.
After scanning, you can find the list of devices that can connect. Select the Gear device and click 'Connect'.
The connected device will be displayed on the Connection Explorer.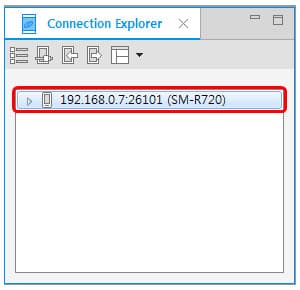 Connecting via the SDB command line
Instead of using the IDE, you can connect via the SDB in the command line as well.
Open the terminal in the Host PC and use the following connect command.

	$ sdb connect [Gear S2 IP address]:26101
	Ex)

	$ sdb connect 192.168.0.11:26101
	
You can see the connected Gear device by using SDB devices command.

	$ sdb devices
	List of devices attached
	192.168.0.11:26101      device       SM-R730A
	
After connecting, you can install apps or use the shell command line.
Installing the App
Open the terminal in the Host PC and use the following install command.

	$ sdb install [path_to_wgt]
	Ex)

	$ sdb install /home/tizen/org.example.test-1.0.0-i386.wgt
	
Once the connection is completed, you can use the SDB command similar to the USB connected case.
Please refer to the link below for more details regarding SDB commands.
https://developer.tizen.org/development/tools/common-tools/smart-development-bridge
Troubleshooting
Turn off Bluetooth to reduce interference with Wi-Fi.

Move away from the charging dock to reduce interference with Wi-Fi.
Note
Bluetooth and Wi-Fi cannot be turned on at the same time on the Gear S2 with its initial firmware.
However, the latest firmware fixes this issue. To turn on both Bluetooth and Wi-Fi at the same time, the Debugging mode is switched ON with the recent firmware (Firmware for US and Japan 3G models soon will be available).
To update the firmware, check the Gear Software Upgrade in the Samsung Gear application on your paired mobile device.