A
Make your Galaxy Watch face or app stand out in the Galaxy Store.
Samsung recommends that you use portrait-orientation product images for your Galaxy Watch detail page. Users can just tap on a portrait image to open it in full-screen mode, creating an optimal phone experience and allowing your app to stand out in the Galaxy Store.
Best practices
Use detailed, close-up images of the product. We suggest that you use just the product and logo (with minimal or no text) for a strong image that shows the quality of your workmanship.

Avoid using identical images for the icon, cover image, and screenshot. In this case, the detail page shows three duplicate images rather than three separate views of the product.
Screenshot resolution
We suggest the following resolution guidelines for screenshots:
Cover Image = 1024 x 500 pixels

Horizontal Screenshots = 1500 x 750 pixels

Vertical Screenshots = 550 x 1100 pixels
Galaxy Store Asset Creator
You can use the Galaxy Store Asset Creator to easily export the assets you need to publish your watch face to the Galaxy Store. To use this tool, you need:
Photoshop version 16.0 (CC 2015) or later

A basic understanding of Photoshop.
Download the Galaxy Store Watch Asset Creator template to get started!
Samsung Mobile Press Gallery
Users can find and download high-quality images for Galaxy Watch and other Samsung products from the Samsung Mobile Press gallery:
http://www.samsungmobilepress.com/resources/
Examples
The following screenshot shows a Galaxy Watch detail page with three portrait screenshots that show detailed aspects of the Galaxy Watch face: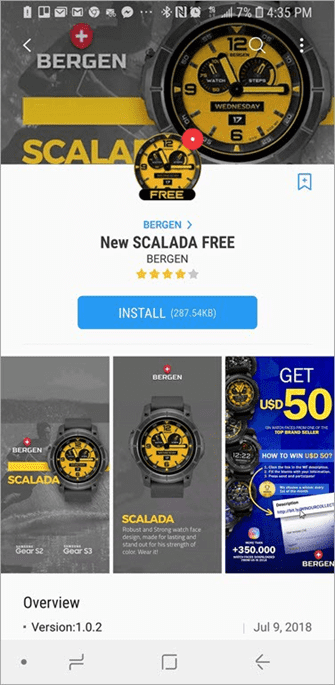 The following screenshot shows a Galaxy Watch detail page with landscape screenshots that are cut off on the sides, making them less visually appealing in the Galaxy Store: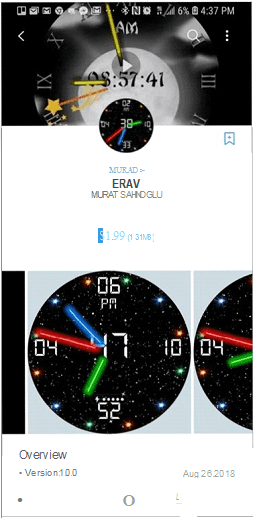 Find more Samsung Developer Program FAQs here.