Samsung Apps TV Seller Office
Samsung Apps TV Seller Office(http://seller.samsungapps.com/tv/) is the official system for Smart TV apps certification and management. It provides all the features needed to submit your application for verification test, get feedback from Samsung team, manage app versions, usage statistics and metadata. It also contains automatic pre-test tools for immediate feedback about your application and a dedicated 1:1Q&A board for direct assistance from Samsung engineers.
App Distribution Workflow
Partnership

- Sign Up
- Request Partnership
- Group Management

App Registration

- App Info Registration
- App Upload & Pre-Test
- Submit App Version

Certification

- Testing
- Defect Resolution

Management

- Statistics
- App Service Change
- 1:1 Q&A
Samsung Checkout
Samsung Checkout provides a seamless purchase experience on Smart TV where consumers can register their payment methods safely and make payments with minimal number of clicks in a TV environment. Samsung Checkout also provides a comprehensive global monetization platform empowering developers and content providers to integrate various business models and promotional campaigns into their services.
Learn more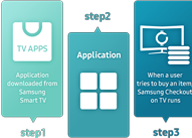 Essentials