How to Distribute
Full Process Guide Download >
Register for a Seller office account
To sign up for Seller Office, click the Sign Up Now button at the middle right of the homepage, and create a Seller Office account. To provide a mobile or Galaxy Watch app service on Galaxy Apps, start the sign-up process.
If you already have a Samsung account, log in with your Samsung account ID on the first page of the sign-up process or the gate page, in order to complete your Seller Office sign-up.
Select Membership Type
Select the proper seller type according to your private seller/business status. Depending on your selection, details of the sign-up fields to fill in and the commercial seller request may vary.

Select Seller Type
Select the proper seller type according to your needs and the requirements for Seller Office. Please select Developer to register Galaxy Watch application.

Select Seller's Nationality
Please select your nationality. Once you have selected your nationality and proceeded to the next step, you cannot change your selected nationality. Please note that you need to enter a bank account number issued in the selected country if you want to change your seller type to a commercial seller.

Terms & Conditions Agreement
In order to sign up for SAMSUNG Galaxy Apps Seller Office, you need to agree to Seller Office's Terms & Conditions and Privacy Policy.

Basic Information
To sign up for SAMSUNG Galaxy Apps Seller Office, you need to fill in all required fields (marked with * ) in English.

Temporary Registration
After entering basic information for Seller Office sign-up, you will receive a confirmation email at the email address you entered. In the email, click the sign-up completion link to go to the sign-up verification page. In order to complete your Seller Office sign-up, you need to log in with the email address and password you entered in the sign-up stage. Until then, your sign-up is temporary.

Sign-up Completion

1. Once your Seller Office sign-up is complete, you can register your applications.

2. If you want to charge for your applications, you need to make a request to change your seller type to a commercial seller. For details on how to make this request, refer to the Commercial Seller Request Guide in Seller Office.

3. If you created your Samsung account using a Phone Number ID, log into Seller Office with the Phone Number ID, and create an Email ID when entering your basic information on the sign-up page. If you created your Samsung account using both a Phone Number ID and an Email ID, log in with the Phone Number ID or the Email ID and finish the sign-up steps.
Explore Seller Office
The Seller Office site supports those who would like to sell their apps on Samsung Galaxy Apps, so that they can easily register, manage and promote their apps, as well as see statistics and payment details.
Full Process Guide Download >
Register a Galaxy Watch app
Add New Application
To register a Galaxy Watch app, select the Samsung Galaxy Watch icon on the right.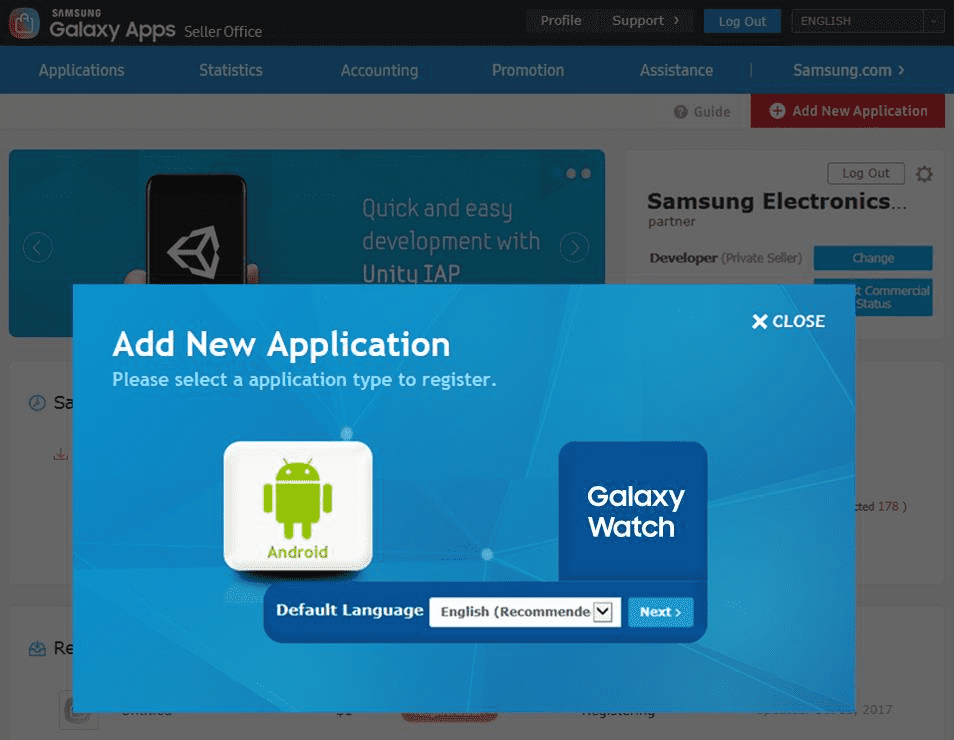 Enter App Information
This menu allows you to enter basic information such as application title, descriptions, tags, icon, screenshots, categories, and age rating.
(Icon: 512 X 512 pixels, PNG format, less than 1,024kb / Cover Image : 1024 X 500 pixels, JPG/PNG formats, less than 1,024kb / Screenshots: a minimum of 320 pixels and a maximum of 3,840 pixels, JPG/PNG formats, 2:1 ratio, 4 to 8 images)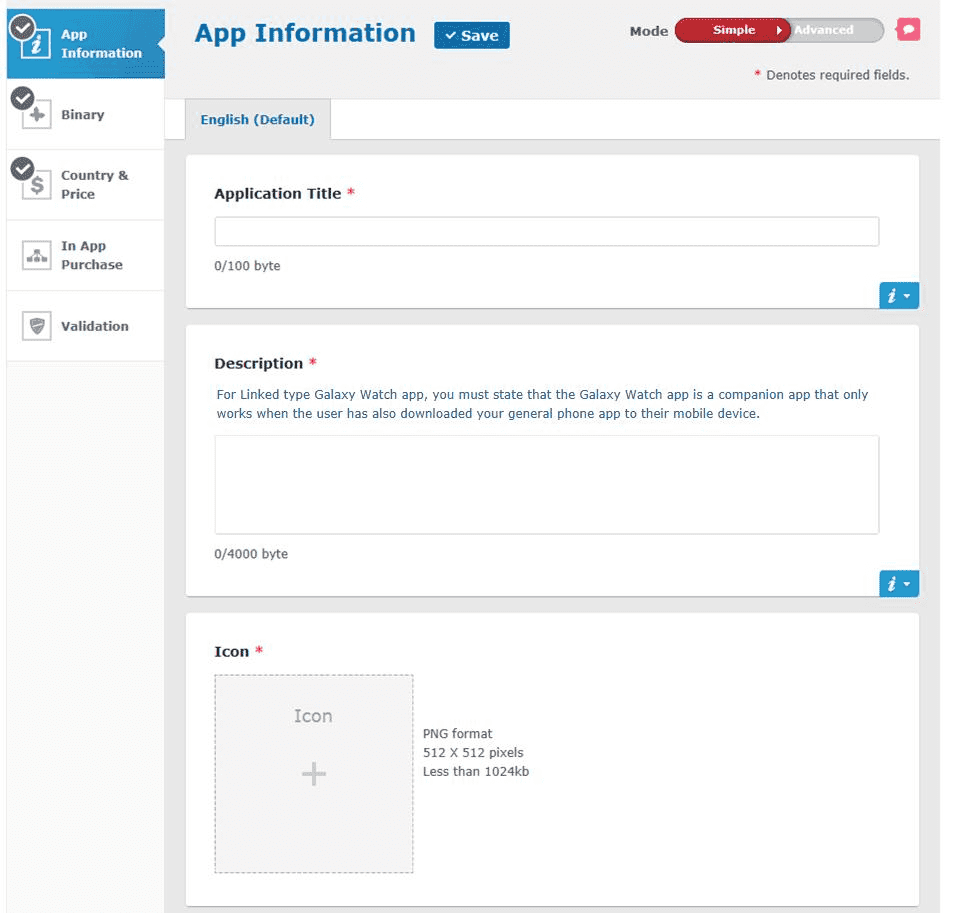 You can select Galaxy Watch categories. Please select a category that is suitable for the application. In case of registering the application with Watch faces category, all binaries should support Watch face feature. You must select "Watch faces" as a main category for a Watchface application and Sub-categories should be manually selected in the App Information menu. To see more detail information, please follow the Galaxy Watch Designer.

Register Binaries
The Galaxy Watch app type will be set based on the criteria of uploaded binaries (Standalone, Companion).
After registering apps, you can change their app type between Standalone and Companion (Wearable) binaries. However, all registered binaries must have the same the Galaxy Watch app type. In order to register a Companion (Wearable) Galaxy Watch app, you must meet one of the following three scenarios:
1) There is Deeplink extraction information.
2) The IAP feature is used (billing privilege is used).
3) Remote AppControl API and SAP API are used. (accessory privilege is used).

Select one or more resolutions that are appropriate for the devices you are targeting, and then upload your binary.

You can modify the list of devices selected by clicking the Selected Device(s) button. Selectable devices will be listed as a combination of Mobile device and Galaxy Watch device such as Galaxy S6-Gear S2.

Changing the Galaxy Watch App Type or Price of a Galaxy Watch application will change the Device Recommendation Information.
Full Process Guide Download >
Set Country & Price
Set the price of the app you wish to sell. If you are registered solely as a free application seller, you can only provide your apps for free. To sell your apps for a fee, click the Go button at the bottom of the screen and submit a request to change your status to commercial seller.

※ Application for Commercial Seller Status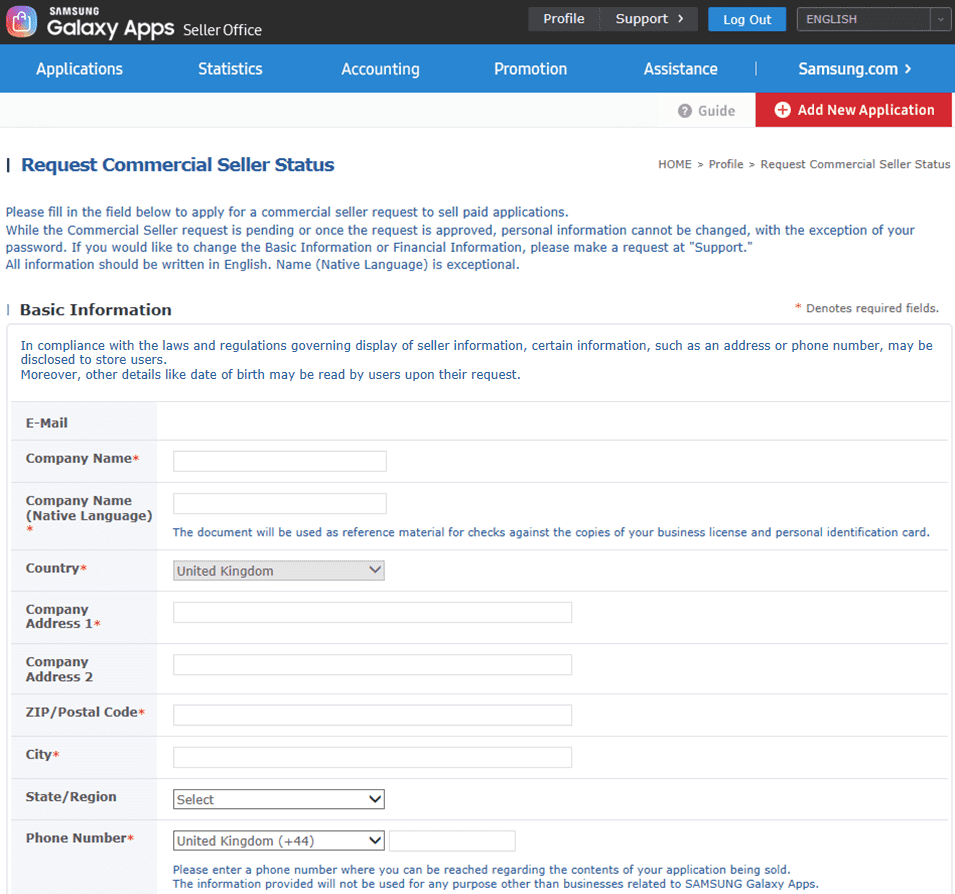 Use the Switch to Advanced Mode button at the top right in the same menu to select the countries in which you want to provide your app.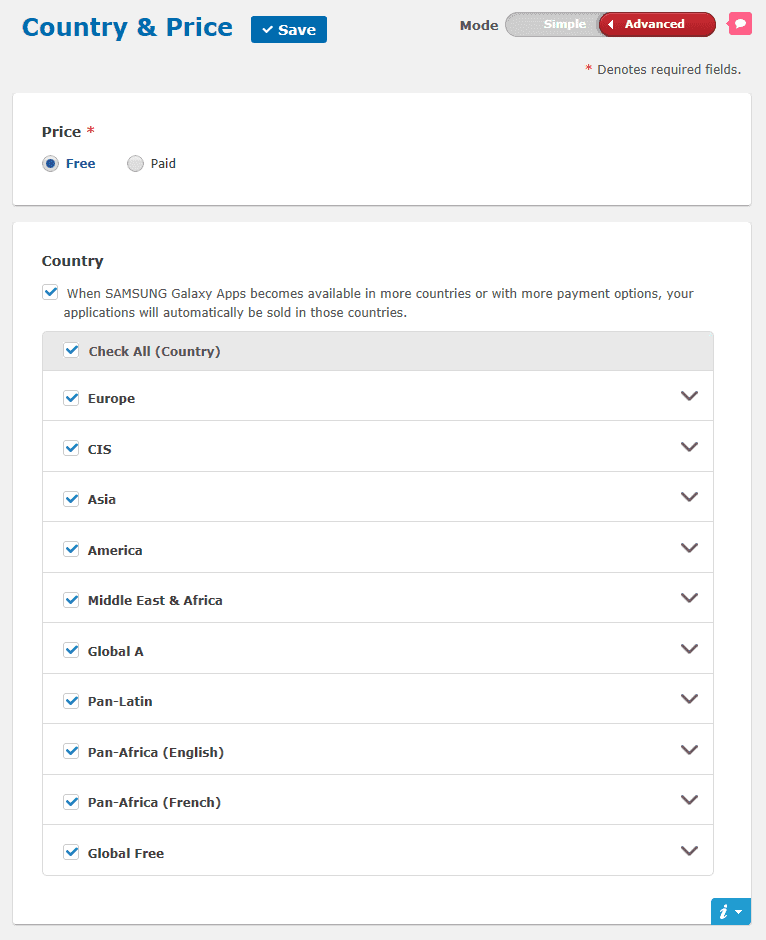 Validation
Before your app can be made available to the public, you must submit a verification request to the verification team. When submitting your request, you may also leave a message for the verifier.
Find application management, promotion management, statistics, and other information in this guide.
Invoking a details page of a Galaxy Watch application
You can make an URI for invoking a Details page of an app and link it on your Web page. Below is the format and an example of the URI.
http://apps.samsung.com/gear/appDetail.as?appId={appId of the your Galaxy Watch application}
ex) In case of the package name of the Galaxy Watch sample application,
<a href="http://apps.samsung.com/gear/appDetail.as?appId=com.sample.gear"> A details page of a Galaxy Watch application </a>