Building NaCl-enabled Projects
Important
Due to NaCl deprecation by the Chromium project, Tizen TV will continue its support for NaCl only until 2021-year products. Meanwhile, Tizen TV will start focusing on high-performance, cross-browser WebAssembly from 2020-year products.
This topic describes how to use the Tizen Studio to build TV application projects that include Native Client modules.
To build a TV application project that includes 1 or more Native Client (NaCl) modules:
Define the NaCl toolchain and build configuration separately for each NaCl module in the application. If you have multiple modules, they do not need to use the same toolchain or build configuration.

For more information, see Building NaCl Projects.


In the "Project Explorer" view, right-click the TV application project and select "Build Project".


The TV application project is built.
Build artifacts for each NaCl module can be found in the "CurrentBin" directory within the module's project.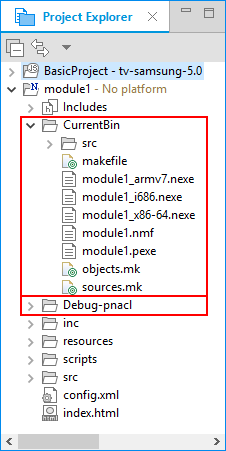 Note
When building the project, the C/C++ code indexer can report code errors even though your NaCl module code compiles successfully. To fix the issue:
In the "Project Explorer" view, right-click the NaCl project and select "Index > Rebuild".
Check that the toolchain directories are included in the NaCl project.
In the "Project Explorer" view, within the NaCl project, expand the "Includes" folder. Make sure that "pepper_xx/toolchain" directories are present.